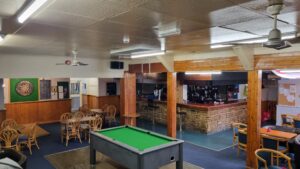 The Club offers a relaxed bar and social lounge, child friendly environment and first class snooker hall.  Other facilities include a range of sports and bar games. We have over 350 members and are welcome to newcomers. Membership is £2.50 per year.
Both our Front and Rear Halls may be hired for private functions and other social events, including weddings, kids parties, clubs, seminars and collectors fairs.
We encourage families to be a part of our memberships and welcome children of all ages.
The Club has Disabled access and toilet.
       Never been to the club? We are always open to having people look around the club before becoming a member.
To get in the club all you need to do is go up to the front door during opening hours and press the buzzer.
A member of staff will then unlock the door for entry.
Opening Hours:
       Monday: 17:00 – 22:00
    Tuesday: 17:00 – 22:00
Wednesday: 17:00 – 22:00
Thursday: 17:00 – 22:00
Friday : 16:00 – 23:00
Saturday: 11:00 – 22:00
Sunday: 12:00 – 17:00
Hours accurate as of 12/03/23
How to find us